May 24-26, 2022
a modern training platform for those charged with the stewardship of our nation's
Wilderness and Wild & Scenic Rivers. 
REGISTRATION EXTENDED – APPLY ASAP!


Click here to view of list of the currently scheduled sessions, including a brief description and list of presenters. We recommend reading through this page before the event starts. All registered participants will be e-mailed a program with final session information and links to all of the Zoom rooms (except for any sessions which may have a limit on the number of participants).
Additionally, sessions will be recorded (as appropriate) and will be posted online after the event.


Click here to preview the 2022 agenda – All registered participants will be e-mailed a program with the final agenda and links to all of the Zoom rooms (except for any sessions which may have a limit on the number of participants).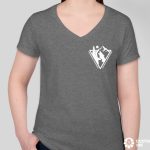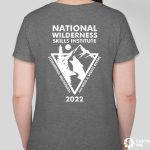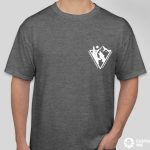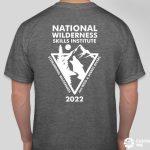 Would you like a shirt to commemorate the 2022 NWSI? If so, please place your order using this link no later than June 10th. All orders will be shipped by June 27th. If you have questions, contact [email protected].
NOTE: all presenters, panelists, moderators, and Zoom hosts will be given a complimentary t-shirt from the Core Team. Instructions for requesting your shirt will be provided via email from the Core Team.


This Session Survey is intended to provide constructive feedback to instructors, panelists, and organizer at NWSI. Return to the survey to provide feedback for additional sessions.

Please provide feedback to the National Wilderness Skills Institute Core Team on your experience to inform our review process and improve future training efforts by completing the Event Evaluation.


At the start of the field season, wilderness and river managers, field rangers, and partner organizations come together in each region to learn new skills, share experiences, and connect with one another as they work together to preserve wilderness character or the outstandingly remarkable values of wild & scenic rivers. These gatherings have various names – wilderness ranger academies, river ranger rendezvous, or the most common, wilderness skills institutes (WSIs).
With limitations on in-person gatherings in many areas due to the ongoing coronavirus pandemic, many of these events have been cancelled since Spring 2020.
Determined to continue on the annual training and networking gatherings in spring 2022, agency personnel and partners have been working together once again to plan and organize another National Wilderness Skills Institute. Similar to the 2021 NWSI, the event will take place online through various webinars, interactive sessions, and virtual social gatherings.
This event will bring wilderness and wild & scenic river stewards together from across the nation to participate in learning sessions as well as opportunities for region-specific discussions and collaboration.
The sessions will be recorded for those who are unable attend the live events and can supplement current or future local training efforts.


Federal agency staff, partners and volunteers are invited to participate in this opportunity, which has been planned and implemented through the collaborative efforts of individuals from the Forest Service and partner organizations.


The Wilderness Skills Institute (WSI) approach to training provides an opportunity to access high quality skill building and professional development opportunities for those who engage in wilderness and wild & scenic rivers work.  The WSI model offers excellent opportunities for connecting stewards – agency, partnership staff, and volunteers across regions and nationally, both inside and outside of the classroom.  Courses are designed to provide skills based training at all levels of experience.
A National WSI virtual model adapts to the current challenges that the ongoing pandemic presents to those needing access to training. This approach provides an opportunity for a broader set of individuals to access the training than in past years and builds the skills and tools needed for future virtual sessions as needed.
Integrates proven course content with new experiences in virtual training techniques.  The virtual tools which have become both readily available and accepted as training mediums encourage greater access to diverse subject matter experts as well as a more diverse audience.
Promotes the skills and best management practices to host WSI's or similar trainings in locations where access to training may currently be lacking.
Develops resources for site-based teaching of physical skills.
The National WSI provides opportunities for broader and more diverse connections promoting inclusivity, community, and comradery for participants.
The long-term objective is to provide an evolving, integrative model for learning and practicing virtual and field-based wilderness and wild & scenic rivers stewardship-related skills which address training needs and networking interests with experienced subject matter experts.


The 2022 National Wilderness Skills Institute Core Team is made up of federal agency and partner representatives from across the country:


In 2021, the USDA Forest Service, Southern Appalachian Wilderness Stewards, Bob Marshall Wilderness Foundation, River Management Society, Selway Bitterroot-Frank Church Foundation, and the Society for Wilderness Stewardship hosted a week-long virtual training for wilderness stewards from across the country and internationally.
The 2021 virtual event occurred May 24-28. There were 5 different learning tracks with a combined total of 70 sessions– Traditional Skills, Visitor Use Management, Wilderness 1 and 2, and Wild & Scenic Rivers. Participants included over 900 Forest Service employees, volunteers, and interagency and nongovernmental partners from across the United States, joined by international participants from Austria, Canada, Ecuador, and Jordan. Nearly all the sessions were recorded and are available through links in the 2021 NWSI Program: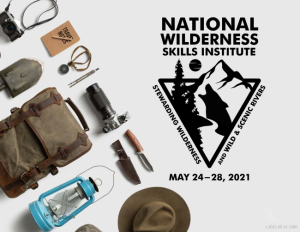 You can also access the recorded sessions on the Society for Wilderness Stewardship's NWSI session recordings page.
The Core Team's efforts were recognized with a 2021 USDA Forest Service Chief's Honor Award under the "Apply Knowledge Globally" category.